Mission
Elefoo's mission - to assist and encourage people in the pursuit of knowledge.
A simple mission, but one that drives and motivates all of us at elefoo. There is no ambiguity; elefoo exists solely for the benefit of those who seek knowledge.
Values
Dream big, work diligently, help selflessly - three phrases put into action daily by every single person at elefoo to support our growth and direct our ambition.
Dream Big
Elefoo fosters an environment where ideas flow freely in a constant stream of creative thought. Even the Universe struggles to keep up with the imaginative nature of our goals. Everyone encourages each other to dream and dream without limits. We still hold an idealist's perspective that anything is possible, and we don't plan on letting that go. It's a movement we like to think of as elefootion.
Work Diligently
Dreams are only half the answer, if that. More important is what comes of these dreams. To accomplish our goals we use diligence, perseverance, and a serious addiction to work. Dreams yearn for these nutrients, and we provide them. We love our energy drinks, protein bars, espresso and long red-eye sessions in front of the monitor. We understand how things get done, and we are getting things done. Our team may be made of dreamers, but we still wake up and go to work.
Help Selflessly
No matter what we do here at elefoo, it is born out of a passionate desire to help others and their pursuit of knowledge. Our fulfillment comes from using our skills, talents and superhuman powers to do our part in benefiting humanity. This idea is the driving force behind our dreams and the motivation for our diligence. Essentially, it is the beating heart of elefoo.
Seem a bit too noble and idealistic? It is, and we love it!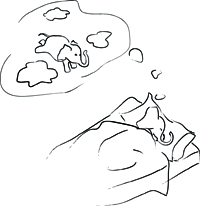 Philanthrofoo
At the heart of elefoo is a very real desire to promote the thirst for knowledge for all of those who want it. To this end, we have a strong devotion to philanthropy in the field of education (we like to call this Philanthrofoo because we think it's catchy - but what do we know). From providing monetary support to exceptionally motivated students, to creating academic programs where they are needed the most, elefoo is determined to make a noticeable and substantial difference in American and Global education.
Currently, we are developing a program and building the tools necessary to provide a platform on which to further our goal of benefitting education in America and abroad. Our philanthropic pursuits also drive elefoo to donate a significant portion of our profits to aid education. So please support us in our mission by doing your part to inspire those around you in the pursuit of knowledge. Whether it be donating books to your local library, helping tutor friends and family or just promoting education by setting a good example, your efforts make a difference.
Company News
(
visit the fooblog
)
Development Launch!
Saturday, Oct. 20, 2007
The long awaited development launch... at least long awaited by the team here at elefoo. We are opening our doors to a few select groups to critique and help us develop our site to meet the needs of our visitors. Think of the state of elefoo as a blank slate, one that will be catered to you, our visitor. Give us your help and two months and elefoo's search functionality will turn into the most powerful college search alive!
If you are here, but are not part of the groups we have approached, don't be discourage, we still want your feedback and support. Click through our pages, use our search, and let us know what extended options you want in your search criteria, what information you want to be shown, and any other crazy or ingenious ideas we know you have. Then we'll get to work making it for you!
- Jason
---
Elefoo Runs Wild
Saturday, May 12, 2007
The Cleveland Zoo got a taste of elefoo this Saturday. We supported Team Ainsley in the United Mitochondrial Disease Foundation's 'Run Wild For a Cure' 5k race / 1 mile walk. I am happy to announce that team Ainsley was able to acquire the most contributions of all the participants at the event! I'm also happy to say that Ainsley was livelier than ever, and everyone at elefoo wishes her the best.
If you don't know what mitochondrial disease is, please take some time to become aware of this devastating disease. Visit the
UMDF homepage
to learn more (http://www.umdf.org).
- Jason
---
Pre-Development Launch!
Sunday, May 13, 2007
Almost to our development launch! And if you're lucky enough to have heard about elefoo already, you'll get the opportunity to see a site with incredibly limited functionality turn into the most powerful college search alive! Yes, we understand your enthusiasm, so let me take a minute to explain a few words about our upcoming development launch.
Some of you may be wondering why we would even launch a site that is still under development. And you should be wondering, because it doesn't make sense under a normal development lifecycle. But we're not exactly following a normal development lifecycle. Elefoo is being constructed, from the ground up, around the experts who will use the site. In other words, we are custom developing our college search to fulfill the exact needs of our most knowledgeable visitors. To do this, we need to allow these visitors access to our site, and what better way than to undergo a development launch!
So if you've made your way to elefoo, feel free to participate in its development. Simply mail us with your comments and suggestions about the functionality of the college search. Your input is our most valuable asset.
- Jason
Our Partners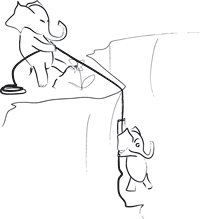 So, our partners are just another way for us to make money? ... No, not at all. We don't have any financial agreements with them. Our partners are a means for us to help extend our mission across areas that we don't specialize in. We won't let our ego's get in the way of furthering our mission, and we encourage you to use the services of those who receive the designation of an elefoo partner. Think of them as approved by elefoo! We back them 100 percent.
If you are interested in becoming a partner and think your website follows closely to the same mission as elefoo, please visit our
'partners'
page or email us at
e.partners

elefoo . com
. Realize that we take our partners very seriously and extensively research their mission and values. Also understand that partners do not agree to any financial duty, only a reciprocal partnership.
Sponsor Information
Other than being wise beyond comprehension for supporting elefoo, sponsors understand and support our mission. They realize the importance of knowledge and its impact on our world. Without our sponsors, elefoo would not be able to grow or even exist. For this, the entire team here at elefoo thanks them, and you should as well. How? You might ask. Visit their websites and stores and buy stuff!
For their monetary support, sponsors receive recognition on our home page and a description of their company on their personal sponsor page. You can find links to those pages above. We allow only a handful of sponsors in order to retain our high requirements and expectations. Because of this exclusivity, know that each sponsor exemplifies our mission through their own philanthropic, charitable, and knowledge centered pursuits.
If you would like to learn more about becoming a sponsor, visit our
'sponsors'
page or email us at
e.sponsors

elefoo . com
.
Media Inquiries
If you would like to contact elefoo about news or other media coverage, please send an email to
e.media

elefoo . com
. If you are only interested in a press release, you will find them below with the most recent press release on top. If you are here searching for advertisement opportunities, please click on
sponsor information
or email us at
e.sponsors

elefoo . com
.
---
Press Release: Development Launch
Saturday, Oct. 20, 2007
Elefoo will undergo its development launch this Saturday and introduce itself intimately to a few select high schools in the Columbus and Cleveland Ohio areas. This launch is centered on their user based development approach, where the site is customized around their most knowledgeable users. If you are experienced in the college search process and would like to get involved, visit elefoo.com to find out how.
Elefoo is a comprehensive college search engine and informative community aimed at assisting people in the pursuit of knowledge. Founded by Jason Simon and Michael Khurshid, the company is in its infancy, and will be unveiled in three phases. The first is the college search utility. The second and third phases are focused on building an informative community. Details will be released with their respective development launches.
Elefoo is also currently looking for sponsors. If you are interested in supporting the pursuit of knowledge and would like to receive an 'early sponsor' rate, please visit elefoo.com.
Employment
Elefoo began as a grassroots idea to start developing a series of websites, products, and services all with a single goal in mind; to help. While elefoo exists as a beginning to an overall theme of projects aimed at assisting, inspiring, and spreading the pursuit of knowledge and education, our team has an interest in a variety of altruistic ventures.
We began as a grassroots idea, but we're not out of the grass just yet. That being said, if you have an interest in our ideals, and an interest in being part of the foo team, please contact us via email at
employme

elefoo . com
. We would love to discuss possibilities with those who share our passion, especially ridiculously smart developers and designers.
Foo Team
The team at elefoo believe in its mission to an extreme. To realize their dream of enhancing education and inspiring the pursuit of knowledge in America and abroad, they have devoted their nights and weekends to the development of a grass roots company.
Jason Simon
Born June 20th, 1983 on the planet known as Massillon, OH, Jason Simon exhibited extraordinary abilities... HA, but for real Jas is one cool dude. While I could talk at length about Jason's traits and attributes, he is really just a hard working guy with a real drive for excellence. His creative development style and skill has shaped elefoo into what it is today.
If you ever get the chance to sit and talk to Jason, you would quickly realize his passion for food and adventure. He hopes to one day attend culinary school, of course only the best one, and open a restaurant. Can any one say FOO-BAR, but until then the foo team will just enjoy his tasty treats for free.
Now for a little more background. Mr. Simon began his college career at Hobart where he studied medicine and microbiology. Sadly, a freak accident in the testing lab changed Jason's life forever... ... ... ... Just kidding, he really just decided that he wanted to do something else and of all the places to end up he landed in Athens, OH at Ohio University. Don't ask, I'm just telling you how it is. Jason would end up graduating Magna Cum Laude and was part of Beta Gamma Sigma a business honors society, and Phi Kappa Phi a national honors society. Over achiever, well maybe just a bit.
During his adventures in Athens at Ohio University Jason met his soon to be longtime friends Lee Barber and Mike Khurshid (A.K.A. K-Shiddy whom you will learn more about later) at a little establishment called the Oasis. May it rest in peace. It was here that Jason and Mike discussed many ideas for taking over the world amidst the ever-changing landscape of Athens. Finally, after many hours of deliberation, and a few failed attempts at other projects, Jason and Mike settled on one idea in particular which would lay the foundations for world domination (or at least help the world out a little)... Welcome to Elefoo.com :op...
Michael Khurshid
Well... he's not right, that's for sure. But if he was I don't think we'd like him. Mike (K-Shiddy) is an artist at heart, businessman by profession, and we don't want to talk about what he is at night (joking of course). In all seriousness though, Mike's personality can be seen dripping off of every page on this site. From its inception, Mike has molded elefoo to what it is today, but who is this mysterious person I keep talking about anyways? Well, he graduated from Ohio University (surprised?) with extensive managerial experience. However, if you were to ask him about his college career you would most likely only hear about music and art. In his spare time, Mike was singing for a variety of bands. And while he didn't major in art, his artistic talent can be seen on the walls of his home and the pages of this site.
After graduating, Mike spent his time in sales, singing, and tour managing while he worked on developing elefoo. Mike exhibits the ideals of elefoo to an extreme, loving all forms of knowledge, but you would be pressed to realize his achievements by talking to him. Mike is humble, but that doesn't take away from his ambition. If you can get him to talk about himself, you'll find that he's worked with some of the world's most distinguished artists and producers. He has done everything from successfully cutting deals to assisting a national tour.
Here at elefoo, Mike brings a creative perspective to knowledge. His varied experiences help drive this site artistically and managerially... an odd combination, but one that adds incredible value. He also adds value by his amazing dance moves, or so he'd like to think. When will your dance podcast come out Shiddy?
William Leon Barber IV
Mr. Barber's entrance into this world very much mirrored the story of Romulus and Remus and the creation of Rome. Except Lee had no twin, he wasn't raised by wolves, he did not found Rome by killing his twin and he has no background related to Italy at all. The only real similarity Lee has to the creation story of Rome is the hills he grew up around in Southeastern Ohio (I'm pretty sure Romulus and Remus were born in the hills)... but that's it, really... so anyways.
Lee's involvement with elefoo began at its infantile stages. Graduating from Ohio University with a degree in the field of Sports Industry focusing on business administration, Lee managed a retail store in Athens (very well I might add) and gained invaluable experience. But of his many talents, skill sets, and proficiencies, the one that towers above all others has to do with little plastic men and long steel poles. Yes, Lee is a foosball phenom. Of course, he did not see how hours of beating Mike (resulting in costly ceiling repairs) would push him down a path inevitably landing him here at elefoo. But we would have it no other way. Just as his colleagues Lee is very much a music lover with an eclectic palette ranging from Zappa and Zepplin to Clutch and Cult of Luna and everything in between. A bit out there, I know... but what can you do?
When you break it down, Lee is responsible for the largest and most important part of elefoo, our community. The skills he possesses in management and customer relations help us stay focused in order to supply outstanding service to everyone who knocks on the door of elefoo. Lee is invaluable to us and we would not be going the places we are without him.